US citizens are not very well known for traveling overseas. Price and cultural differences or diversity could be the cause of this. This article shows some statistics, research, and reasons why it may be so. The intention is to discover whether it is worth holding you back from visiting Europe.
How often do US Citizens travel to other countries?
A survey was held, where 2000 American citizens were interviewed and asked questions regarding their travel experiences and history. Some of the interesting statistics are shown below:
11% of survey participants have never visited outside of their home state.
More than half of those polled (54%) say they've only seen ten states.
Up to 13% of people say they have not used an airplane for travel.
Forty percent of individuals polled stated they had never traveled outside the country.
More than half of those surveyed have never held a passport.
According to a broader study, only 36% of Americans have a valid passport, compared to 60% of Canadians and 75% of British and Australian passport holders. That means nearly 70% of us are ineligible to travel internationally. According to a recent survey, barely one in every five US Citizens travels abroad regularly.
For many years, Americans did not need a passport to go to Mexico, Canada, or on cruises, which may explain why so few US nationals hold a passport. However, still, the survey indicates that most Americans are not keen on visiting other nations.
Why do US citizens travel to other countries so rarely?
Statistics show that most Americans prefer to travel to other states of the US. Still, it is enjoyable why they act in such a fashion. The article highlights some of the causes of dislike towards international travel.
The landscape of the United States is Diverse
The United States is often recognized as the world's most geologically, meteorologically, and culturally varied nation, with countless mountains, deserts, and forests. Considering this, there are numerous ethnic dishes available. After Canada and Russia, the United States is tied for third place with China. The US has a dependable architecture and convenient services for getting from point A to point Z. It is not required to have a passport to experience most of the things you could have done in other countries.
It is costly and time-consuming to leave the nation
According to some of the tourism and travel industries, the average cost of traveling for the 20% of Americans who visit other countries is $2,700. The cost of airfare is over half that of the $100 bullet trains that Europeans ride to new and exotic locations. On top of that, it can sometimes be time-consuming and expensive to travel from a country surrounded by 2 vast oceans. Moreover, Americans do need visas and travel permissions sometimes. For example, starting from 2023, Americans will need ETIAS visa waiver to visit Europe as part of the visa exemption program. Some people are too lazy to fill in the forms and care about the travel programs, so they prefer to visit different regions of their own country without much hassle.
Domestic travel encourages less international travel.
Because international travelers are so few, most Americans recommend local attractions above international ones. It is true that the United States is vast, unique, and has many different sites to explore, further laying the ground for domestic travel. US citizens see interstate travel as a means to sample diverse cultures without leaving their homes. This is understandable, but countless countries, cities, and locations offer as much diversity in the USA.
Prioritizing work
Studies have shown that although Americans have fewer days of vacation than other industrialized nations, they usually neglect to take advantage of the few they are given for fear of falling behind at work. Alternatively, they book shorter home excursions rather than more extended overseas visits. Given the advantages that travel provides, this is also short-sighted. However, many Americans still maintain this value.
Cultural differences can be intimidating.
Most US citizens are content to spend their lives and reside in the United States, exploring the country's states, major cities, territories, and national parks rather than traveling to other nations. It is understandable to explore your home country first and then travel elsewhere. Politically, culturally, and ethnically the US and Europe can be very different. Still, most travelers understand that this is what makes the trip worthwhile at the end of the day.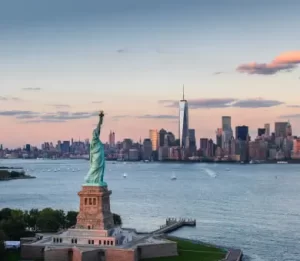 Is it worth traveling from the US to Europe?
Living in Europe is fascinating, with numerous states, cities, villages, and locations with diverse cultural history and heritage. If you are keen on gaining new experiences, traveling to Europe is most definitely worthwhile, as the continent can give you endless opportunities.