Traveling to Europe from the U.S.
Traveling to Europe for US Citizens
From November 2023 onward, U.S. citizens will need an ETIAS visa to travel to Europe. The application will become mandatory for all citizens who were previously permitted to enter the Schengen Area without a visa. We provide information to help American citizens plan their trips to Schengen countries. Taking these rules and requirements into account will increase your chances by at least 50% of obtaining a visa waiver.
The new ETIAS travel system will apply only to people who currently need a biometric passport to enter Europe. These citizens will need to complete an online application at least 72 hours before traveling to the Schengen Area. This will simplify border control, as travelers will be pre-checked in various databases.
Currently, 60 countries are permitted visa-free travel within Europe, including the U.S., but this will change with the new ETIAS system.
Simple Steps for Getting Your ETIAS Visa

Get notified when
ETIAS is mandatory

Start an online
application with us

Receive ETIAS
Confirmation

Every visitor planning a trip from the U.S. to Europe must complete an online health check form. It is also possible to complete this form at airports in the Schengen area, where you will receive a QR code to an electronic version of the form.
European countries have agreed to implement standard rules to maintain public safety. Since February 1st, 2022, the European Union has adopted a person-centered approach. To stay up to date on information regarding vaccinations and revaccinations, U.S. citizens planning to travel to European countries should rely on the rules of the individual countries.
U.S. citizens planning to travel to Europe must be fully vaccinated or have recovered from Covid-19 and must present the appropriate COVID certificates. Travelers must receive their most recent dose of an approved vaccine at least 14 days before their arrival date.
The ETIAS application requires little paperwork. U.S. citizens will only need a biometric passport that has been valid for at least 3 years. Otherwise, you will have to apply for an ETIAS visa before reentering the Schengen area.
You must also provide accurate personal details, an email address, and a visa fee when completing an ETIAS application. Your passport will be linked to the visa electronically, so you must use the same document for both completing the application and entering the Schengen area.
Persons involved in human trafficking, terrorism, and drug-related crimes will be denied ETIAS approval. U.S. citizens will be able to complete the ETIAS application anywhere, using a computer, tablet, or smart phone.
Within 24 hours, they will receive an email notification that the application has been accepted or denied.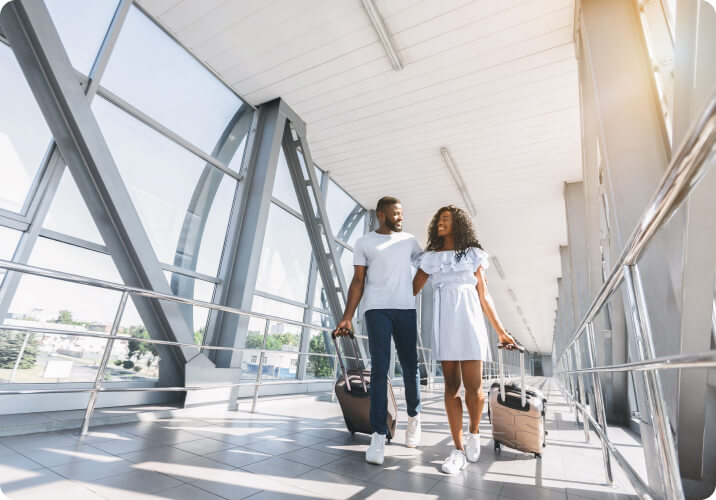 ETIAS Travel to European Countries
Europe is the heart of culture and art, making it a constant attraction for any U.S. citizen. The same can be said of European countries' diversity, which is long remembered by visitors. Despite Covid-19 regulations, the goal of ETIAS, starting in 2023, will be to provide easy travel to the Schengen Area with the fastest, simplest, and most convenient procedures.
Over 500 million people travel to Europe each year. More than 30% of the travelers currently do not need any visa to visit Schengen zone.
There are over 2 million foreigners enrolling in study programs in Europe annually. In 2020, more than 2.7 million people who are not nationals of EU obtained a working permit or visa within the schengen region.
Frequently Asked Questions
Can't find the answers you're looking for?
Reach out to our
customer support
team.
Frequently Asked Questions
Can't able to find the answers you're looking for?
Reach out to our customer support team.
U.S. citizen will need an ETIAS visa for travel to any Schengen country. The new system designed to enhance security will go into effect in 2023.
To receive an ETIAS visa, you must complete an online application. You will then receive an email with the status of your application as soon as possible. If a U.S. citizen incorrectly fills out the information, the consulate may request additional documents before making a final decision. In rare cases, the applicant may be interviewed.
European countries have different requirements. Read on for more details. U.S. citizens wishing to travel to Europe must obtain two doses of an approved Covid-19 vaccine and provide a certificate. With the development of the Omicron variant, individual countries' rules are changing, so stay up to date on their policies to avoid fines.