You don't need to apply for a Greece Schengen Visa if you are a U.S. citizen. As long as your passport is valid for at most 3 months following your return to the United States, you are permitted to travel to Greece or any other member countries of the Schengen Area. The answer on your question do US citizens need a visa for Greece is NO only if you're traveling for leisure or business purposes. If your intended stay in Greece lasts longer than 90 days, you will need Schengen visa.
In 2022, all US citizens can travel to Schengen area with their valid passports only. They are exempt from visa requirements according to the EU's visa liberalization policy. However, in November 2023, EU is introducing a new visa waiver program – ETIAS. This means that there will be essential steps before traveling to Europe. You can read more about it on our website.
The article below will explore the travel requirements to Greece for US citizens. In addition to visa-free travel specifics, we'll talk about the cases when you need to apply for Schengen visa or any other visa type.
Do US citizens need visa for Greece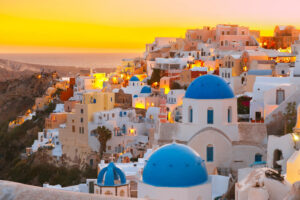 Do US citizens need a visa for Greece? Yes and no.
You need visa for Greece if you plan to stay there for more than 90 days or if you plan to work, study, do business or reside long-term. For tourist and business purposes that do not last longer than 90 days you can visit Greece without visa. However, it does not mean that you can simply grab your passport and travel to Greece with no further requirements.
These are the 3 major document requirements you may encounter at the border:
evidence of sufficient funds
return airline ticket; or
upon request provide evidence of your intention to leave Greece
Proof of sufficient funds
Proof of sufficient funds to cover the duration of your stay in Greece, as well as a return flight ticket are required. There are many ways you can prove your financial sufficiency.
A personal bank statement that reflects your financial transactions (for at most 3 months).
Credit card
Cash
Traveller's checks
Pay slips
Employment proof
Document to support the sponsor's willingness to pay your expenses during your stay
Prepaid accommodation proof
Document on accommodation in private
Prepaid transport proof
Other
The European Commission has communicated that, as per the Common Ministerial Decree No 3021/22/10F, all foreign nationals are required to attest to having a minimum of 300EUR/stay and a daily amount of 50EUR/day. The amount is universal and does not concern US citizens only. However, all minors are subject to a reduction of the mentioned fee up to 50% on the regular amount. This means that no less than 25 EUR per day should be calculated per minor while traveling to Greece from USA.
Why you do not need visa to Greece from USA
Greece is part of the Schengen Agreement. U.S. citizens can enter Greece for up to 90 days without a visa, whether they are traveling for business or tourism purposes. However, you should keep in mind the following travel requirements:
Your passport must have at least six month validity to be eligible for entry into Greece. Although Greek law requires that your passport be valid for three months beyond the date of your departure, it could be required to have six months within your transit country. To avoid travel disruptions, we recommend at least six months validity.
U.S. citizens who travel with a lost or stolen passport will not be allowed entry to Greece. They may be returned back to their original destination. The Greek immigration authorities will make this decision and the U.S Embassy cannot intervene. Only the Embassy in Athens can issue emergency passports. The staff members are not allowed to travel to ports of entry by air, sea, or land.
If asked, you must show proof of sufficient funds. You will also need a return ticket for Greece. Credit cards are often used to satisfy the sufficient funds requirement.
U.S. diplomatic and official passport holders must apply for a Schengen visa before they can arrive in Greece. A visa is required for any American diplomatic or official passport holders.
For official military orders, refer to the Department of Defense Foreign Clearance Guide.
Greece visa eligibility
Furthermore, you should take into consideration the Greek rules regarding your birthplace:
A U.S citizen who has a passport that lists your birthplace as the Northern Republic of Macedonia will have your passport stamped by the Greek authorities.
A U.S citizen who has a passport that lists your birthplace as Skopje, Republic of Macedonia should be recognized by the U.S passport as a valid travel document. Be aware however:
At ports of entry (land and air), the Greek Immigration officers will not place entry stamps on passports listing the traveler's birthplace as Macedonia, the Republic of Macedonia, or any other country.
A short form will be required to be completed. This will allow you to place the entry stamp.
The form should be kept with your passport and presented upon departure. You can lose the form if you visit a police station. They will issue a report that will allow you to leave the country.
Greece visa requirements for US citizens
You must apply for a visa to Greece at the Greek Embassy or Consulate before you arrive in Greece if you plan to stay for more than 90 days in a 180-day span. Students, property owners, employees, athletes, coaches and others may be eligible for visas. For more information, contact the nearest Greek Mission in your area. Official and Diplomatic passport holders from the United States must apply for a visa before arriving in Greece.
Residency Permits
There are many types of residence permits. The majority of cases will require U.S. citizens to apply for a visa at the Greek Consulate. Before your visa expires, you must apply for a residence permit at the Decentralized Administration Office in your area of residence upon your arrival in Greece. A Greek residency permit may be applied for by U.S. citizens who are married to European citizens.
Golden Visa
Golden visa is a residency permit for investors by residence investment. Obtaining golden visa requires several steps and supporting documents to be present. These are the main requirements for getting Greek Golden visa:
Formulation
Four (4) digital passport photos printed recently, also saved in digital format (CD jpeg2000) with some specifications.
A certified copy of a passport or other travel document that is recognized by Greece along with the valid visa will be provided.
EUR 16 charge for the printing of the separate document (electronic resident permit) plus an electronic fee
A contract of insurance from a private insurer, as required by current legislation, shall provide coverage for all health and safety risks, and the amount of the benefits financed.
The certificate of the notary who prepared the purchace agreement or the notarial document for the lease of hotel accommodations facilities or furnished houses to tourists in complex tourist accommodation areas.
A certificate from the notary is issued in the event that the sum paid for the property was less than two hundred fifty Euros (250.00).
A certificate of encumbrance from the national cadastre or land registry attests to the absence of any encumbrance
A copy of the notarial document for the leasing of hotel accommodation facilities or furnished homes for tourists in complex tourist accommodation areas, acknowledging the full payment amount of 250.000 Euro.
A purchase agreement for a parcel of land or site, and any relevant contract regarding house building/restoration must be filed with the Tax Office competent in accordance to the Law.
Permission to plan in the name and signature of the individual concerned
Receipts or invoices from the contractor
A timeshare contract should be for at least five years. It should clearly indicate the income per annum.
The National Tourism Organisation (NTO), which issued a certificate certifying that the timeshare was disclosed to them.
ETIAS visa waiver for Greece
The visa waiver system was created by the European Union to gather information about visa-free tourists in order to identify people who may pose a risk to security while traveling to the Schengen Area. It's easy to apply online for ETIAS.
The ETIAS can be used for up to three years, or until your passport expires (whichever comes first). Your ETIAS can be used for 90-day stays in 180 days. Overstaying your ETIAS can result in heavy fines and even a ban.
ETIAS requests must be completed by applicants by providing basic information like name and address. The data are screened once the form is submitted. All information is checked against Interpol databases. After processing, the approved Greece visa waiver will be sent to you by email.
The applicant can appeal to the member states that denied the ETIAS visa waiver. The appeal in such cases will fall under the jurisdiction the member state. There will be an exception procedure in exceptional circumstances, such as humanitarian grounds, national interests, or international obligations. ETIAS National Units can issue travel authorizations with limited territorial or temporal validity in these situations.